In modern times, the reception area of a business continues to be a crucial space as it serves as the first point of contact for visitors and clients. cluttered and messy reception area can give a negative impression to visitors. The reception area is the first thing visitors see when they enter a business. A well-designed and welcoming reception area can create a positive first impression and set the tone for the rest of the visit.
A professional and well-designed reception area can help convey the values and personality of the business. The front desk operations at the reception area of a business are crucial as they reflect your brand image among modern competitors.
The front desk staff are often the first people that visitors interact with. Friendly, professional and efficient front desk operations can create a positive first impression and set the tone for the rest of the visit.
Modern enterprises are increasingly looking for smarter and stronger systems to better their front desk operations. As we all know front desk staff are responsible for managing the customer experience, from greeting visitors to providing information and handling inquiries. Better front desk operations can enhance the customer experience, making visitors feel valued and appreciated.
But it seems to be a little complicated and tedious using traditional methods such as registering visitors, making use of paper based logbooks, tracking visitors and their activities manually by the receptionist.
Instead, if you want to provide the best visitor experience, you are required to put in efforts here. However, there are bundles of issues plaguing the reception front desk across a variety of industries. But these problems can be eradicated using reliable RECEPTION MANAGEMENT SYSTEM.
Let's see how??.
In this post, we'll explore how the Reception Management System is the Key to Bettering Your Front Desk Operations while ensuring security and digitization.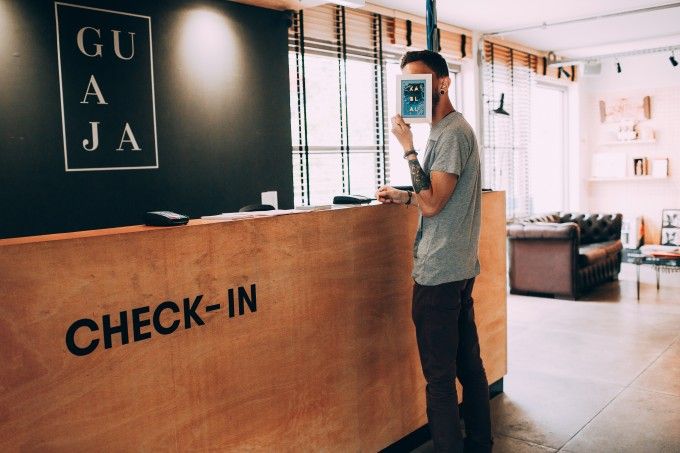 Need of streamlining your front desk operations
In today's fast-paced digital world,gone are the days when a receptionist's job was confined to getting visitor data. Now,it is not just limited to that.
Nobody wants to stand for long hours in queues waiting for their turn for register themselves by providing details at the front desk counter.
But,this process is really complicated and time-consuming and obviously leads to a cumbersome visiting experience for visitors and guests. Manually filling reservation and check-in forms can be a time-consuming and clumsy task. This exercise is really time-consuming and contradict to modern technologies.
Another factor relates to offering the best and unique visitor experience to guests and visitors which seems to be a new and essential element of competition between businesses and plays an integral role in acquisition & brand retention. It seems critical for modern enterprises to streamlines the entire visitor registration process for maintaining a competitive advantage in the marketplace. Digital solutions such as Visitor management system can be highly effective in enhancing the brand image of a company.
Another major concern is security need of modern organizations to protect their guests and employees while reducing number of security breaches. A security-conscious enterprise needs a high-tech secure and digital solution to maintain and practice a high level of access security within your facility premises by reducing security risks such as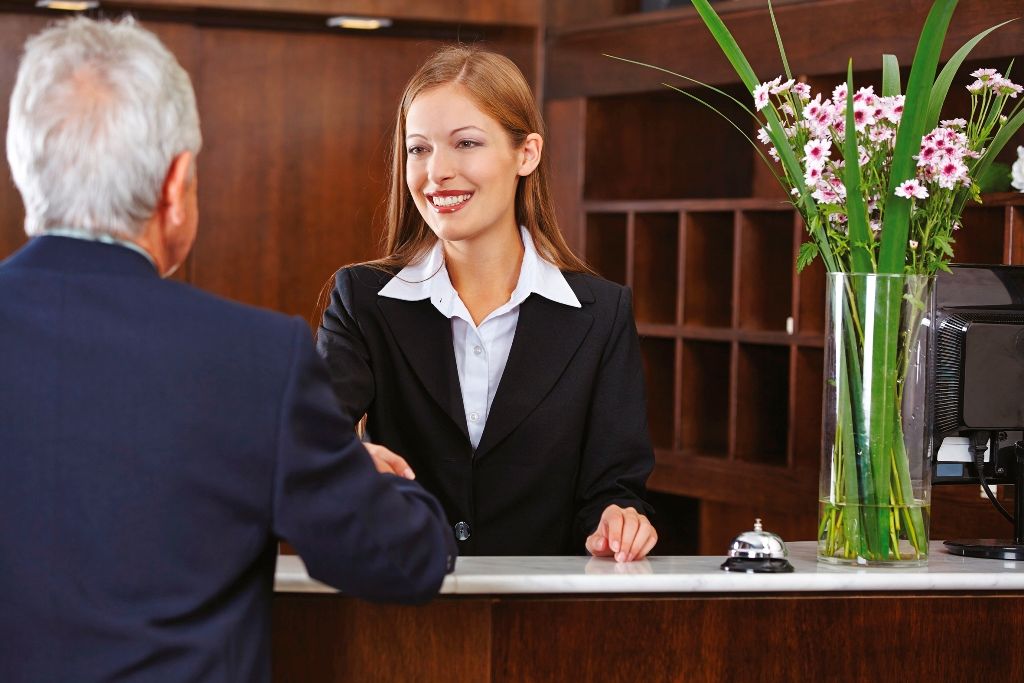 • Unexpected hassle and disturbances in lobby area due to long waiting lines
• Security breaches and loss of data privacy
• Unwanted intruders and persons entering into the premises
• the safety and security of visitors, employees and intellectual property
Streamlining front desk operations can provide several benefits to high-tech organizations to maintain their competitive value and standard.
By streamlining operations, you can ensure that customers are greeted promptly, their inquiries are handled efficiently, and their needs are met in a timely and satisfactory manner.
Streamlining front desk operations can help to increase efficiency. By eliminating unnecessary steps or processes, you can free up time and resources that can be used to improve other aspects of your business.
By streamlining operations, you can identify inefficiencies and reduce costs associated with redundant or unnecessary tasks. This can help to improve your bottom line and increase profitability.
A well-organized front desk can help to improve your business's reputation. By providing excellent customer service and efficient operations, you can establish a positive image and build customer loyalty.
Overall, streamlining front desk operations can have significant benefits for your business. By improving customer service, increasing efficiency, reducing costs, facilitating better communication, and enhancing your reputation, you can create a more successful and sustainable business.
Introduction to Reception Management System
Reception Visitor management Solution
A reception management system is a software solution that helps businesses manage their front desk operations more efficiently. It can automate various tasks related to managing appointments, scheduling meetings, registering visitors, and providing real-time information to employees and customers.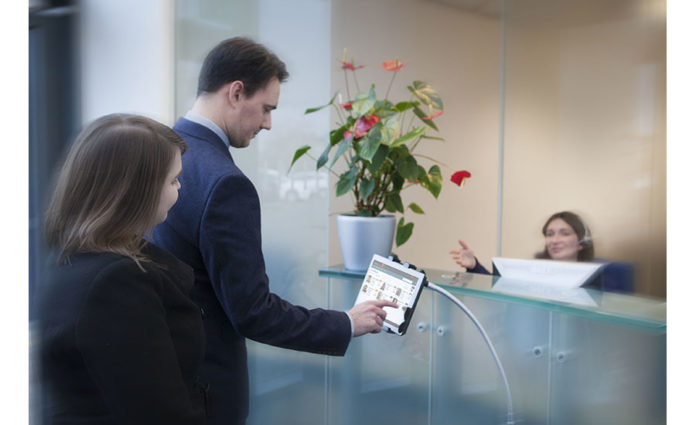 Reception Visitor management systems are becoming increasingly important in modern organizations which want their efficiency and productivity levels at the top among their competitors in global market.
A reception management system can streamline front desk operations and reduce manual tasks, improving efficiency and saving time for both staff and visitors. It is a valuable tool for organizations that want to stay competitive and provide the best possible service to their customers.
Here are some of the key features of a reception management system in visitor management:
1. Pre-Registration:
A reception visitor management system can enable visitors to pre-register for their visit, which can help to speed up the check-in process and reduce waiting times. The systems boosts the security level of facilities by effectively monitoring who is in premises and when they sign in.
2. Customizable touchless Check-In Process:
A reception management system can provide a customizable check-in process, allowing businesses to tailor the check-in process to their specific needs. It allows for touchless check-ins and check-outs making use of QR codes rather than manually check-in using visitor logbooks.
3. Visitor Badge Printing:
A reception management system can print visitor badges, providing an easy way to identify visitors and ensure that they are authorized to be on the premises.
4. Visitor Photos:
A reception management system can take visitor photos, which can be used for security purposes and to verify visitor identities.
5. Notifications:
A reception management system can send notifications to employees when a visitor arrives, providing real-time updates and improving communication.
6. Compliance:
A reception management system can help businesses comply with legal and regulatory requirements, such as data protection regulations and health and safety guidelines.
7. Cloud-based storage:
The cloud-based digital visitor management software ensures that every visitor has a proper check-in and a security screening and contributes to the workplace' safety measures
8. Paperless reception area:
Every organization must contribute to preserving nature. Visitor reception management system enables an enterprise to go paperless presenting a digital front desk environment to its guests making their visiting experience more seamless and fantastic.
Reception Visitor Management System Vizitor– Key to better your front desk
By putting a Reception Visitor management system at your front work area, even without the receptionist taking care of them, visitors can in any case sign-in and get their visitor identifications, while their host has been consequently informed.
The reception area is always one of the main security point in all establishments. Maintaining security standards is necessary to enrich the brand impression which you want to offer to your guests. The system covers the high-tech security needs of modern organizations to by encountering their frontal office operations in a digital way.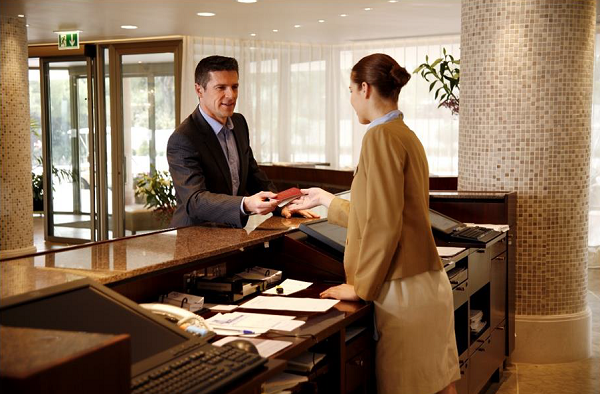 Using Vizitor,you can create a modern front desk system with which you can impress your customers and reduce the use of paper completely at you premises presenting a professional image of your brand.
Vizitor reception management system is a key tool for better front desk operations in several ways:
1. Streamlining Check-In Process
Vizitor reception management system allows to automate the check-in process, reducing the need for manual processes such as paper-based logbooks. Visitors can quickly and easily register, sign documents, and get real-time updates on their appointments.
2. Efficient Appointment Scheduling
Vizitor can provide a centralized platform for scheduling appointments, managing cancellations and rescheduling. This can help to eliminate scheduling conflicts and avoid double bookings, reducing the workload of front desk staff.
3. Enhanced Security
Vizitor can help to maintain security by tracking visitors, managing access control, and providing alerts in case of any security breaches. Visitor badges, photo capture, e-signatures enhance the security level of workplaces. Vizitor helps improve security by printing visitor badges with a photo ID and time-stamped information. This ensures that only authorized visitors are allowed access to your facility, and can help prevent unauthorized access or theft.
4. Increased Efficiency
Vizitor automates various tasks, such as appointment scheduling and visitor registration, which can save time and improve efficiency. This can free up time for front desk staff to focus on more strategic tasks.
5. Better record keeping
The system automatically captures visitor information such as name, company, purpose of visit, and check-in/check-out times. This information can be used to generate reports and analytics, and can help your organization comply with data privacy regulations.
6. Enhancing the visitor experience
Vizitor provides visitors with a professional and welcoming experience from the moment they arrive. The system can be customized with your brand's logo and colors, and can even be programmed to display personalized greetings or instructions.
7. Real-time notifications
With Vizitor, your staff can receive real-time notifications when a visitor arrives, allowing them to greet the visitor promptly and provide assistance as needed.
Overall, Vizitor can help streamline your front desk tasks, improve security, and enhance the visitor experience, making it a valuable tool for any organization that receives visitors on a regular basis.
Conclusion
While considering all these factors, there is an urgent need for an advanced visitor reception management system like Vizitor which effectively streamlines the front desk operations. Through the changing times, security levels and need of automation have increased in almost all facilities premises. So,the need for a robust system greatly increases today to enhance your reception area. If you are looking for a powerful way to upgrade your system, it's time to give Vizitor visitor management software a try.