Maintenance and discipline are the keys to success. Organizations need software that maintains their co-working area. Maintenance is starting from the front-desk area. Manual system doesn't manage the reception area efficiently, there is a need for a digital system. Visitor management system for a co-working space is a software that automates the reception area. This type of system brings multiple benefits to those who use it.
In this article, we will learn more on the subject —
Why do we need a visitor management system for your co-working space?

How to choose a visitor management system for your co-working space?
Why do we need a visitor management system for co-working space?
Visitor management system quickly and efficiently manages the check ins, captures key information, and lets hosts know of their guest's arrival. The co-working spaces don't have a lot of staff, they simply don't need it. A co-working space is usually packed full with members working on their own projects and interacting with one another, customers, partners. So they prefer a digital system instead of a receptionist.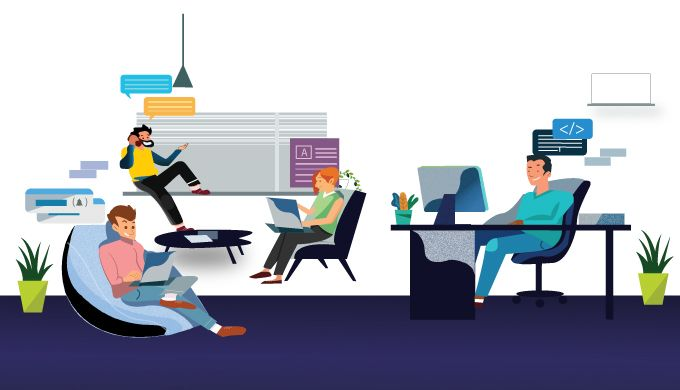 Here are some steps that describes how people are more comfortable with Tech than with Humans:-
They prefer to use a self-service system to make sure that your info is entered correctly.So visitor management system provides the self check-in services.

With digital visitor management systems, visitors will not interrupt if a manager is busy. A self-service option solves the problem as it assists the visitor immediately.

Digital check-in systems  can work 24/7 because registration becomes a matter of minutes no matter of visitors coming time.

A visitor management system automatically notifies the host about guest arrival.

A visitor management system allows your visitors to pre-register their visit and enter all the relevant details. So that you can quickly process their details.

Visitor management system offers e-pass with —visitor name, photograph, contact details, organization name, and escort name.

With VMS you can see the live status of visitors. Visitor dashboard displays the current status of the visitors.
How to Choose a Visitor Management Software for Co-working Space?
The good visitor management system should sign in visitors,provide identification for them to wear,keep track of them during their visit,and keep a record of their visit. Now we can pass over to choosing a perfect visitor management system for your co-working space.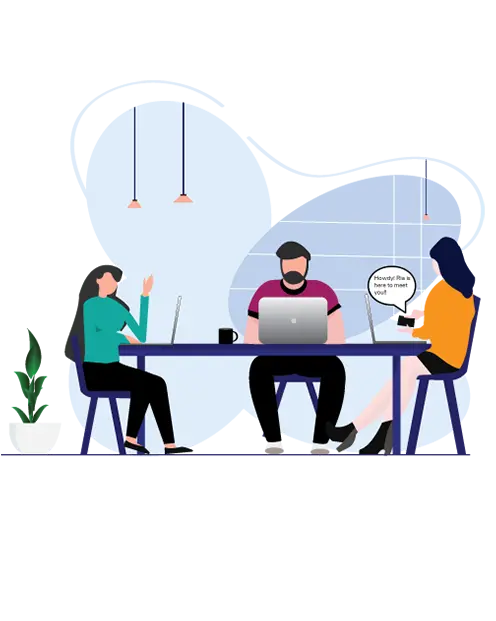 Here are some questions that ask before making a final decision.
1) Is the System Easy to Use?
The visitor management system should be user-friendly at the backend as well.

Don't make the administrator struggle with the check-in process, badges, and reports design.

VMS offers features like drag-and-drop interfaces, wizards, and robust customer support that can respond to questions quickly.

Even better, consider only the programs that have a free trial period before making long-term commitment.
2) Does the System Streamline Visitor Management Process?
The best visitor management system not only assists in the check-in process, but helps with printing visitor badges, playing safety videos, alerting hosts that their visitors have arrived, in a word, replaces the front desk staff.

This is great as a visitor is 100% confident that the host knows they've arrived and that they are safe from the odds of wandering into the office unannounced.

You can customize the check-in fields and screens to suit your co-working space needs.
3) What Hardware needed for Implementing a Visitor Management System?
The most essential devices necessary for running a visitor management system are a tablet/ipad, and Wifi connections.

You can use QR code for check-in.This is not too much if you don't need to think about hardware compatibility.
4) How Does the System Protect  Visitor privacy?
VMS is much more private than a paper-based system.

Customers appreciate such an approach as not all of them want you to store their info for a lifetime.

No one can see your information like a paper register.

You can access the data by cloud.
Conclusion
Wrapping up all the above, you would want to use a visitor management system to make an impression on your customers, to streamline procedures at reception, and enhance security of the enterprise.Visitor management system featuring top-notch security, utmost compatibility with all services, apps, and programs you utilize, and alert system for each of your employees or co-working members. A high-tech way to check in and manage visitors to your co-working space is amazing service.