We know a lot of people are concerned with the spread of COVID-19 around the world and the impact it's having on economics. Places are opening because of the economy. Not because it is safe. It's important salon managers keep up to date take the right precautions to manage and protect your Salon.
"Take advice from reputable sources:
As we know there is a lot of misinformation out there, so don't get sucked in. The WHO is a great resource for information, so we've summarized some of their recommendations to help you protect your business."
How Visitor management system help you at your salon?
Health questions to your online booking experience*
Vizitor allows you to customize your healthcare screening questions. A good way to remind people of your appointment policies is to ask them some questions when they book online.  Screening of the visitors is vital amid this COVID-19 outbreak.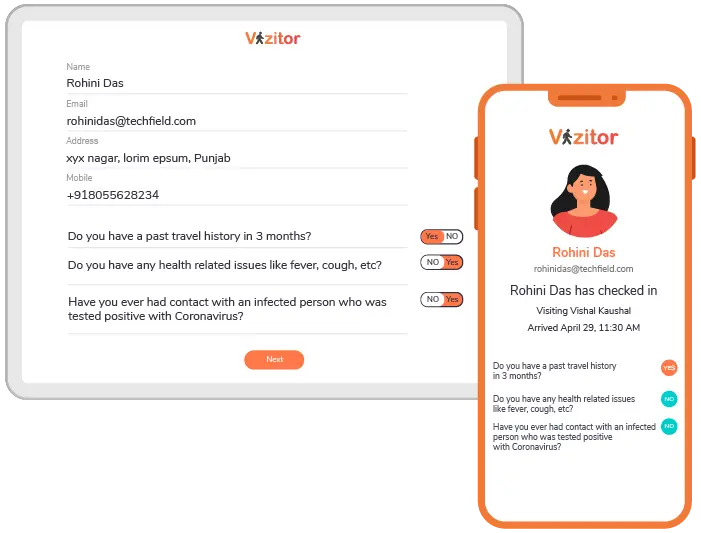 Here are some examples of the questions: Workplaces must ask a few questions to visitors about
Their past travel history in 3 months?

Any health-related issues like fever, cough, etc?

If they had contacted an infected person who was tested positive with Coronavirus.

Contact Tracing: During this pandemic, the biggest worry is getting exposed to the virus. The visitor management system helps you with contact tracing of customers coming to your salon. With the contact tracing, you can be sure that your employees and visitors both are safe.

Schedule Appointments: Vizitor provides a consistent feature to your customers so that they can schedule appointments online from the comfort of their homes.

Reduce No-Shows:Vizitor sends out a reminder email to your customers about their appointment. This system also sends more information with SMS and emails.

Activity Dashboard: Vizitor dashboard helps you with managing your appointments and online bookings along with appointment cancellations. So this way the visitor management system keeps track of the daily appointments activities.

Customized Forum: Users can make customized forms according to their choices. Personalized the fields and questions for different visitor types.

Send QR codes in advance: You canMake your touchless check-in experience touchless by sending QR codes in advance to your visitors. Visitors will then receive a QR code to use directly on their mobile devices and can check-in by scanning that.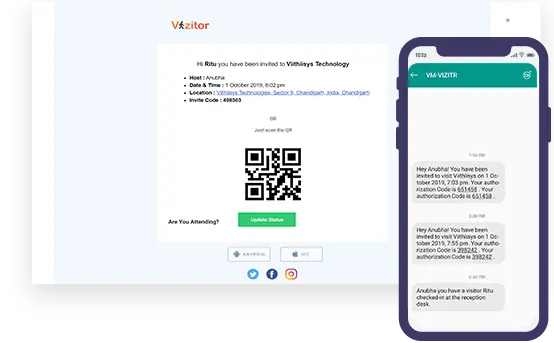 Update your staff travel policies: At a time like this, it's totally reasonable to suggest to staff that they only travel if they really have to. If any staff need to travel, then the visitor screening questionnaires ask the details.

Which counties are they going to?

If they've traveled to an affected country, it might be best to ask them to self-quarantine for 14 days once they get home.
Hygiene in your salon:
There are a number of ways you can follow to help stop the spread of germs in the salon.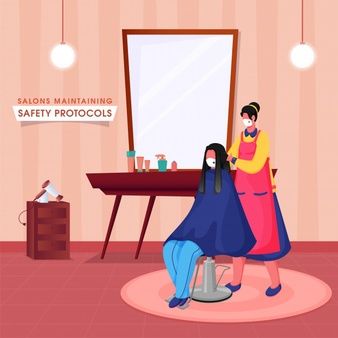 Provide hand sanitizer at the salon door and ask clients and visitors to use it upon arrival.

Wash your hands often and thoroughly with hand soap.

Keep at least 3 feet distance between you and your customer.

Give staff the instruction to wear a face mask when treating visitors.

To avoid touching your eyes, nose and mouth, because it's easy for viruses to enter the body through.

Make sure you and the staff around you follow good respiratory hygiene – this means covering your mouth and nose with  tissue when you cough or sneeze.

If  your staff have a fever, cough and difficulty breathing then recommended them to stay home.

Stay updated about COVID-19, and follow the advice given by your public health authority on how to protect yourself and your clients from COVID-19.